Ghosts don't care if you believe in them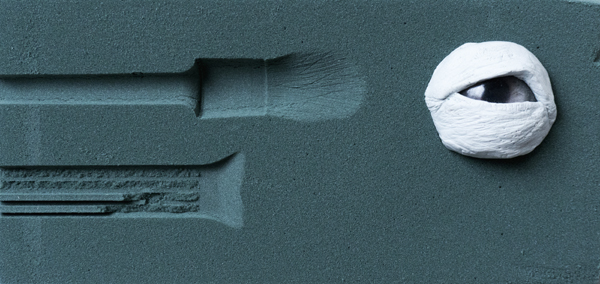 With the project Ghosts don't care if you believe in them, artist Arturo Kameya explores the 'life' of objects in museums. What happens to an object after it has been included in the museum context? To what extent does this context distort our image of (historical) reality? The exhibition, consisting of sculptures, paintings, drawings and video, shows that objects, instead of having a fixed place, move like ghosts in and between different locations, cultures, contexts and histories.
The works in the exhibition refer to colonial paintings, ethnographic and natural history museums. The exhibition deals with the way in which we tell stories through museum collections and how these mechanisms oscillate from objective academic research and forensic methodologies to subjective conservation rituals, that are often loaded with traces of colonial practices.
The exhibition explores the trajectory of mobility, reconstruction and conservation and asks questions about the idea of museology and restoration. It is a reflection on the logic of the Carahiba revolution proposed by Oswald de Andrade in his Cannibal Manifesto of 1928 and aims to question what cultural cannibalism means today. One of the main axis of the project is understanding the cultural production as a rite of passage to the land of the dead; from a metabolic cycle that digests the old in order to create the new; to the ritualistic ceremony of preserving life where there is none.
Exhibition from March 31 till May 5, 2018
Made possible by Mondriaan Fonds, Stichting Stokroos, Ginsberg Galeria, and the municipality of Hoorn